I'm sure by now you've heard the adage, "the rich get richer." This was especially true in the case of the No. 5 NC State women's basketball team, which added three five-star freshmen to its roster, added two five-star transfers and retained every player from last season's ACC title rotation.
One such player, sophomore guard Diamond Johnson, is set for a huge role in the Pack's offense and will likely see more time than the team's other newcomers. Johnson came to NC State from Rutgers, where she finished the year on the All-Big Ten second team and Big Ten All-Freshman.
"Diamond's a special player, now," Moore said. "Unbelievable quickness, [can] shoot the 3 from really deep and she has just fit in great. Her personality, she's fun to be around. Yeah, I don't know if y'all know, Allen Iverson has an all-star game in Philly. She's the only female ever invited to play in that."
As a true freshman, Johnson found a way to make an impact early, starting in 15 of the Scarlet Knights' 19 games. Johnson averaged 17.6 points, 4.3 rebounds, 2.5 assists and 2.3 steals per game. More impressively, the 5-foot-5 guard had a 50/40/90 season, a feat that has only been accomplished at the professional level one time.
It's not like Johnson was putting up empty stats either — last season's Scarlet Knights finished No. 12 in the NET rankings, just one spot under the Wolfpack. Rutgers went 14-4, finishing the year as a No. 6 seed in the NCAA Tournament in the same bracket as the Pack.
Advanced analytics support the Johnson campaign. Rutgers' most-used five-woman lineup, featuring Johnson at the point, registered a plus-25.7 rating in 272 minutes played. Five-person lineups are a little volatile, because it's hard to pinpoint just one player making that kind of impact. But in three of Rutgers' most-used two-woman lineups, Johnson featured at the point, and those lineups registered plus-27.8, plus-26.7 and plus-20.8 net ratings. Just take a look at the amount of green on these charts.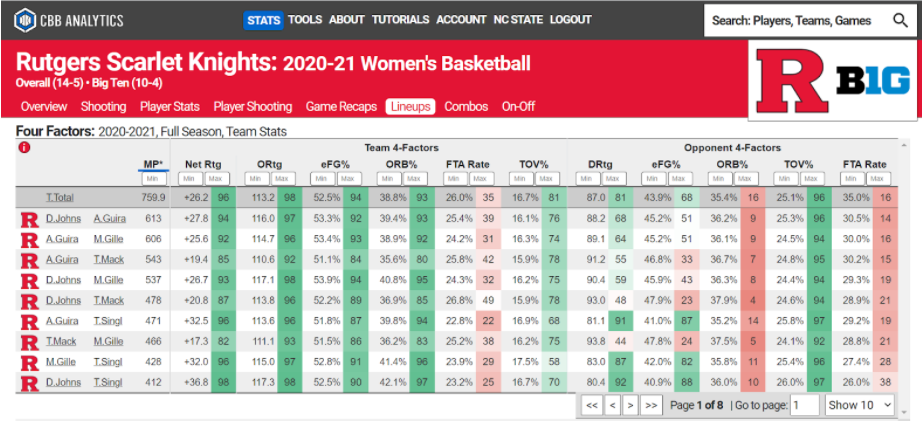 While Johnson did benefit from being next to a bonafide bucket in Arella Guirantes last season, a player that now hoops for the WNBA's Los Angeles Sparks, it's not like she won't be able to find that kind of role with the Pack as she continues to grow her game. Look at Johnson's absurd shooting chart from last year.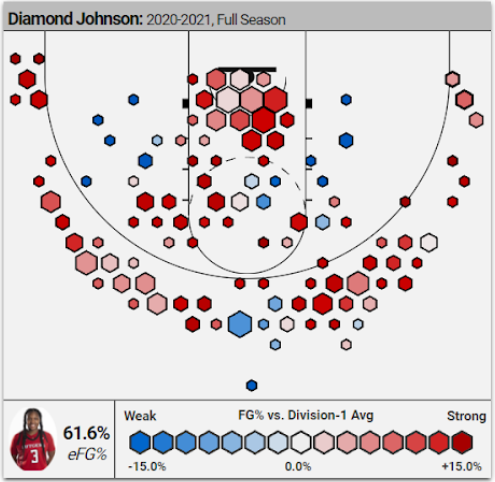 That kind of bucket-getting proved to be extremely valuable in last year's transfer addition graduate guard Raina Perez. Perez went on to score the game-clinching bucket for the Pack's second straight ACC Tournament title. At the 2021 ACC Media Tipoff, Moore was quick to point out the similarities in the duo's game.
"She's a special player," Moore said. "So it's going to be interesting, trying to get all the pieces to fit. Hopefully, we can make that happen. But she makes it easy because of her personality, just like Raina [Perez] did a year ago. Raina was instantly accepted because of her work ethic and her personality, so we're confident Diamond can do the same."
Though both guards are small, with Perez clocking in at 5-foot-4, the talent is there and the spacing the duo could provide would propel this team to further greatness, especially if Moore experiments with any three-guard lineups that would involve graduate guard Kai Crutchfield. Moore seemed excited about the prospect.
"It gives you two kids on the floor that can handle the ball, that can shoot it, that make great decisions. It would be a small lineup, but definitely a possibility," Moore said.
It's clear how Johnson can fit into Moore's rotation to begin the season. The team will return all of its starters, senior center Elissa Cunane, graduate forward Kayla Jones, junior wing Jakia Brown-Turner, Perez and Crutchfield. Reigning Co-Sixth Woman of the Year, junior forward Jada Boyd, is set to miss time at the beginning of the season as she recovers from an injury, according to Moore.
That leaves Johnson to take the helm as the Pack's sixth woman, though fellow transfer sophomore guard Madison Hayes, along with junior center Camille Hobby and sophomore guard Genesis Bryant, seem primed to compete for big minutes off the bench.
Regardless of Johnson's exact spot in the rotation, the guard will do what she does best: Get buckets. Johnson will look to keep up the winning ways she displayed at Rutgers with Moore as the Pack aims to win its third straight ACC title.