From mountains of homework, extracurriculars, applying for jobs and a pandemic, students experience an overwhelming myriad of responsibilities and stress. In exchange for meeting the harsh demands of college life, many students sacrifice a very important aspect of their health: their mental well-being. 
While the Counseling Center offers excellent resources for improving mental health, limited appointment availability makes getting much needed help a challenge. With the average cost of therapy ranging anywhere from $60 to $120 per session, viable and affordable options for college students are hard to come by. However, there is a simple way to bolster mental health not just for students but for professors who initiate much of their stress: through mental health days.
NC State has recognized a need for mental health days in the past. Earlier this year during the spring semester, the University implemented four "Wellness Days'' in an effort to reduce student and faculty stress from the pandemic and online learning. No classes were held on these days and professors were encouraged to not assign any homework or exams in the days following a Wellness Day.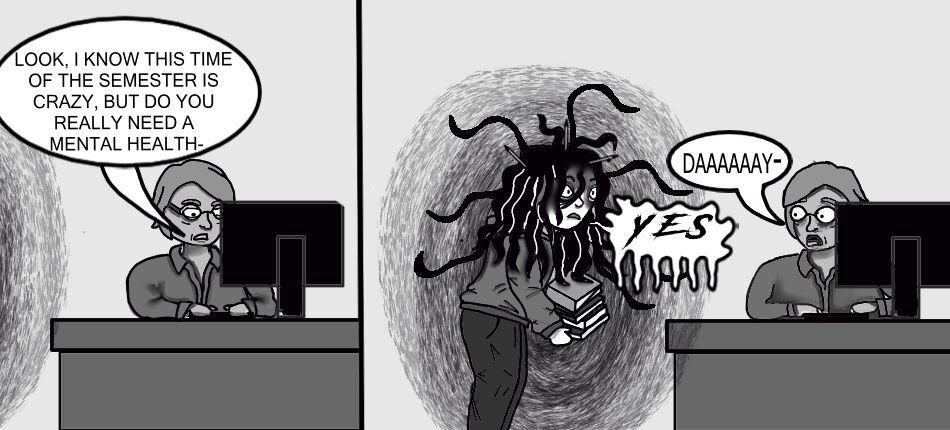 While the number of COVID-19 cases have since subsided and students have returned to the classroom, mental health disorders among young adults continue to increase at alarming rates, especially for 18 to 25-year-olds. Suicide has risen from the third leading cause of death to the second among this age group in recent years; making mental health a priority is important now more than ever.
In light of unfortunate incidents at UNC-Chapel Hill, in which three students died from suicide, only one of my professors took an opportunity to afford students a mental health day, which entailed not coming to class and doing little homework. However, for my other classes, the professors gave no such opportunity and continued on as usual without so much as a mention of what happened. 
When professors offer mental health days, they show students that they care about their well-being and their lives are more important than missing a day of class. In addition, by giving students an opportunity to relax and focus on themselves, professors actively reduce the stigma surrounding mental illness, which in turn creates an atmosphere of understanding and respect.
For professors worried about sacrificing vital classroom time, a mental health day does not mean learning does not take place. In fact, taking breaks has been shown to enhance learning as well as increase productivity and decrease stress levels. Even at rest, the brain is at work processing memories and making sense of novel concepts.
Furthermore, mental health days can still be opportunities to cover course content in a way that is neither time consuming nor difficult. For instance, my interpersonal communication professor assigned my class a 40-minute film related to what was covered in the course.
Another great aspect of a mental health day is it benefits professors in addition to students. The challenges facing instructors due to pandemic-related health concerns and online learning have no doubt been sources of great anxiety and stress, with over half of faculty from one study reporting symptoms of burnout. Although one day may not be enough to eliminate these harmful feelings completely, a mental health day provides a chance to recuperate so the next day can be tackled afresh.
With final exams right around the corner and the fall semester quickly coming to an end, students are facing peak levels of stress. While there is little time for relaxation at this point, moving forward into the spring semester, professors should take mental health days into consideration. Both students' academic and emotional achievement depend on it.