It's no secret college is hard. "Look after your mental health" is a message we've all heard countless times. We all know it's important to take care of ourselves, but how often do we actively carve out space for doing so? As students, busy schedules often make it difficult to prioritize our mental well-being. However, the frenzy of college makes it much more important to prioritize our mental health.
I recently discovered the perfect opportunity to do this on campus: dog therapy. Free to all students, NC State's Prevention Services hosts "Pause for Paws" several times each semester. The program allows students to hang out with dogs, escaping for a moment from the stress of school.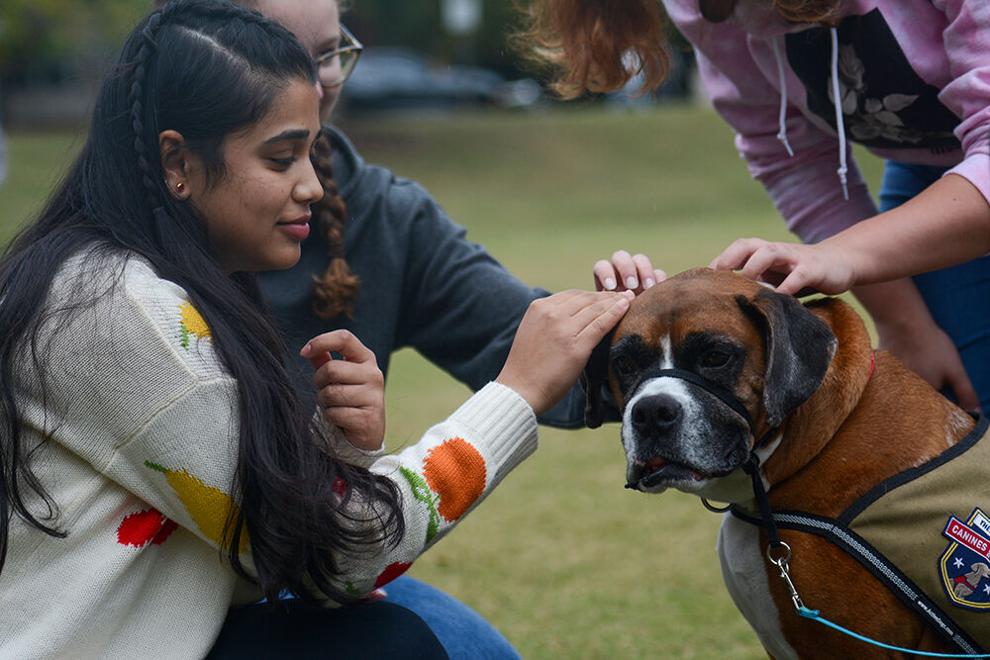 Last Thursday, in the spirit of Red and White Week, a session was held in front of Witherspoon Student Center at Harris Field. I went and was pleasantly surprised at how much fun it was. There were at least six dogs there: all different breeds, all adorable. The dogs' owners were so friendly and made the experience feel comfortable. Students at the session described how the therapy was an escape from school and a chance to focus on something different, even just for a brief moment. 
Not only is dog therapy fun, but it has also been proven to reduce anxiety, pain and depression. Unlike other forms of counseling, which are often expensive and require a time commitment, dog-assisted therapy at NC State is free and flexible. "Pause for Paws" is held multiple times each semester, specifically during Destress Fest and finals week. It is the perfect resource for students who are stressed out from school or who just want to pet some furry friends. 
Although it is extremely necessary for those who experience serious mental illness to seek individualized help, mental health resources are open to everyone and should be something we all take advantage of. Prevention Services, a branch of NC State Counseling Services, was created to provide inclusive, non-judgmental outreach to students. It collaborates with NC State's Counseling Center to educate students about mental health and offers engaging events like "Pause for Paws."
It's important to take care of our mental health as students. Events like "Pause for Paws'' offer low-pressure resources so we can support one another in casual, inviting spaces. Similarly, Counseling and Prevention Services hosts 17 different drop-in spaces which are low-commitment ways to connect with others. Like dog-assisted therapy, these drop-in spaces are free and support students in unique, involved ways.
If you are looking to carve out some time for your mental health, or if you're like me and just can't get enough dogs in your life, I highly recommend dog-assisted therapy. Petting dogs is a great way to help our mental wellbeing.