As minimum wage remains stagnant, affordable housing (or lack thereof) continues to look bleak around NC State's campus. Whether it be right on Hillsborough Street, Western Boulevard or off Avent Ferry, housing that is supposedly catered to students has spiked in rent prices in recent years. I'm here to tell you: almost all of these housing options take advantage of students' need for off-campus living. 
Even though NC State offers a decent amount of on- and off-campus housing opportunities for all students, many students migrate to strictly off campus. This allows for a little more freedom, flexibility in choosing roommates, having pets, having access to your car and more. I personally chose to move off campus for more room and accessibility to areas on Hillsborough Street. I lived in The Standard, and it is probably the most expensive housing option that seeks to lend itself to the umbrella of student housing.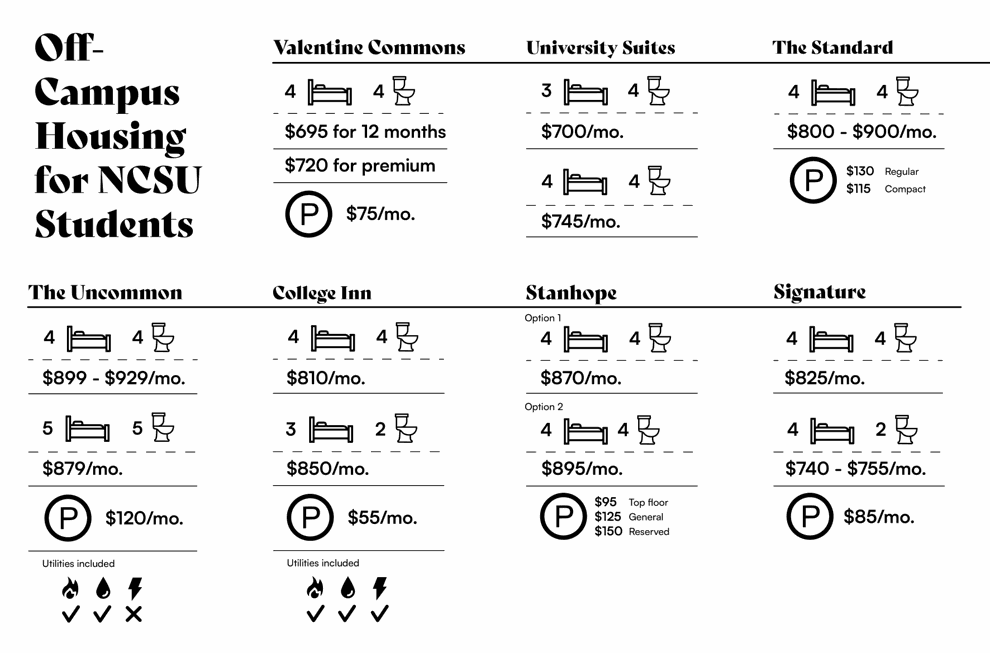 Even as my old roommates and I got one of the cheaper floor plans, we were all doling out upwards of $1,000 each month solely for one small bedroom and one bathroom. My room was also considerably smaller than the rest of them since the balcony elongated to take some of my floor space. Because I had really had no other option at the time, I chose to pay this egregious rent to be close to campus. I am sure many other students have to make this decision as well. 
If you need to stay near Hillsborough Street, there is always the option of Valentine Commons. It has an astonishing rating of 4.6 on apartments.com, yet every review is a one-star commentary about how disgusting the place is and how poorly managed it is. It seems they are clearly lying to students looking for housing about the quality of this complex, which isn't surprising. 
The funniest thing about most of these apartments is their rents are not all inclusive. Many cover all utilities, but parking is almost never included and costs an extra price every month. The Standard and Uncommon were charging upwards of $100+ every month for a parking spot. In my experience with The Standard, I had to buy one sooner than later because they run out of spots very quickly. It's not that weird to not have a car if you live in an apartment, but it's usually common among most students. Thankfully for students who can't afford a spot, the GoRaleigh and Wolfline buses have numerous stops all over Hillsborough Street and Avent Ferry Road for easy transport. 
My question is, how do these apartments continue to rise in rent and no one has said anything about it? There is no way students can afford this while being full-time students, working part-time jobs and struggling with finances as it is. These complexes bank on the idea that students desire "luxury" apartments, when luxury is the last thing on college students' minds. I would even argue that most of these options aren't even luxury, and Queen D on Twitter agrees.
"They build them in two weeks and put marble contact paper on the kitchen counters, wood looking tiles, and throw a pool table in the common area and charge $2000 for it. Now you paying $2k to hear your upstairs neighbors have sex." This is exactly what all of these apartments look like — and the walls are paper-thin, to my dismay. 
As the apartments on Hillsborough Street continue to jack up, students are obligated to move further away from campus to complexes like University Suites, The Republic or Campus Crossing. While all of these places are only a 10-15 minute drive from campus — they are significantly cheaper in rent and still provide quality housing. Being far away from campus isn't the worst, but it is also not much to ask that NC State students deserve affordable housing. 
The cost of living will continue to increase, and NC State students will be left behind if housing is not made more accessible to all of the student body. Apartment complexes, do better.