At NC State, three words pervade and haunt our lives more than "possible COVID-19 exposure." From T-shirts and banners to brochures and speeches, "Think and Do'' underlies and represents all things Wolfpack. But for a leading research institution that touts excellence in several disciplines from engineering to business, such a simplistic mantra may be doing more harm than good.
In all fairness, the complete slogan reads "Think and Do the Extraordinary," a detail unknown to many students. Though the condensed version rolls off the tongue better than its longer counterpart, the omission of two words sacrifices so much clarity. As a result, NC State's mission suffers.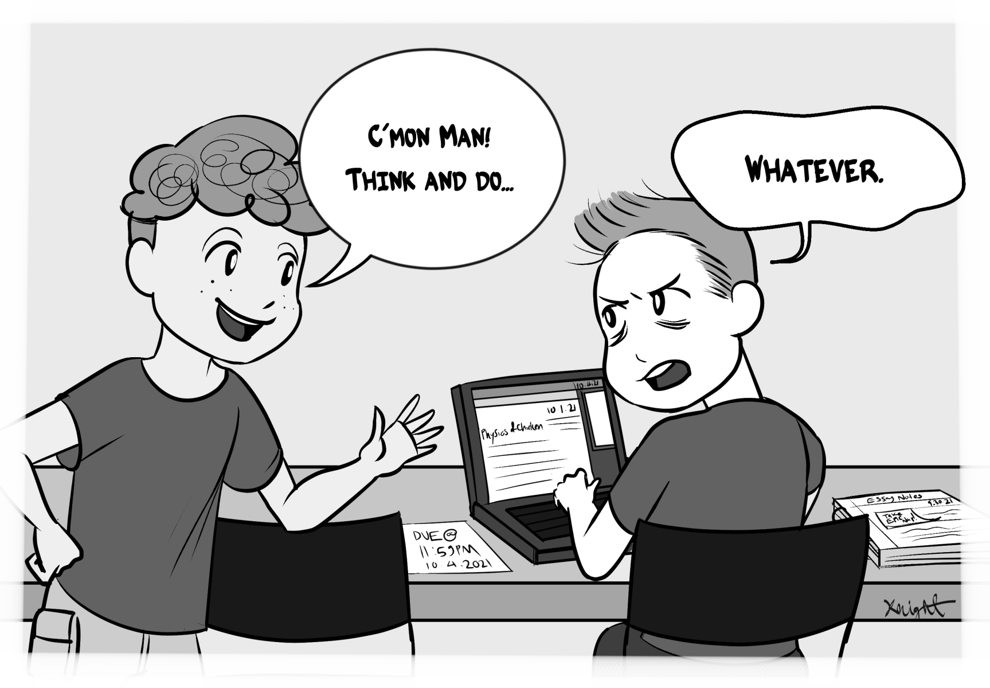 Slogans are powerful components of a brand's identity. Unlike the brand name itself and logos which only reveal so much about a product, slogans must tell what a brand is about and what makes it special. More importantly, slogans serve to increase brand awareness and position the brand in a way that distinguishes it from its competition.
On the surface, "Think and Do" is hardly unique, and it reveals little about NC State's mission and values. But after a quick dive into NC State's website, the meaning becomes more apparent. According to the About page, the mantra represents how students and faculty match thought — "big, bold ideas" — with action — the research, projects and start-ups that manifest those ideas into a reality. 
With this understanding, the motto seems less vague, and, quite frankly, the rationalization behind it is perfectly valid. Yet, without putting effort into investigating the deeper meaning of "Think and Do" — as most of us likely won't think about doing — the message just falls flat.
The main problem with "Think and Do" is that it applies to virtually every situation, whether it be blazing trails with groundbreaking research or going to the bathroom. Anyone and everyone can have a thought with an intended purpose and carry out that purpose through action.
Because a slogan is so powerful in shaping perceptions, crafting a profound one is important, especially for a University which promotes creative and critical thinking. For this reason, I believe the over 35,000 students who pay at least $20,000 a year for their coveted spot on NC State's campus deserve something more than "Think and Do."
NC State is not the only university with a motto. Mottos are commonly employed among higher education institutions, and many are written in Latin if not English.
Though a motto does not need to be in Latin to be good, it should at least convey a sense of significance. For instance, the University of Oregon's motto "Mens agitat molem" translates to "Mind moves matter" or "Mind moves mountains" in a colloquial sense. UNC-Wilmington's motto is "Discere Aude," meaning both "Dare to learn" and "In order to discover the truth firsthand, be courageous."
Both of these mottos provide insight into what the university stands for, and are unique to their respective institutions. Oregon's mantra reflects the mountainous scenery of the state as well as the university's value of knowledge, while UNCW's tagline was personally crafted by former Wilmington College President Dr. William Madison Randal and presents a challenge to students. 
For NC State, one simple reworking of the mantra that could replace "Think and Do" is "Do the extraordinary." Not only does the latter extend a powerful invitation to students but it also eliminates the potential for jokes.
In a time where colleges are practically brands themselves, pouring time and money into getting students to spend thousands of dollars in tuition for their products and services, NC State could use an edge on the competition. A good place to start is with the mantra that gives an impression of what the university is about. While a complete rebranding is not necessarily in order, it may be time for NC State to rethink "Think and Do."