On Nov. 17, NC State opened an investigation into Chadwick Jason Seagraves, a desktop support team manager in the Office of Information Technology, according to University Spokesperson Mick Kulikowiski. The investigation came after the University received multiple reports relating to a blog post and Twitter thread connecting Seagraves to both a white nationalist organization and several offensive social media posts. 
The leakers belong to a group called Anonymous Comrades Collective, which identifies itself as a group "dedicated to exposing Nazis, racists and fascists." The leakers' blog post and Twitter thread claims he identified himself as a member, and former North Carolina chapter president, of the Proud Boys, an all-male, far-right, neofascist political organization. The Proud Boys are a Southern Poverty Law Center-designated hate group. 
Technician is unable to verify his alleged membership in the group or confirm his association with a now-deleted Twitter account the leakers claim was his. 
In a video taken in June 2017 at a rally in Chapel Hill, far-right activist Augustus Sol Invictus can be heard referring multiple times to a man, who was identified by the leakers in photos as Seagraves, as "Mr. Seagraves," and thanking the man for inviting him to speak.
This video contains harsh language.
The Anonymous Comrades Collective's Twitter thread incorrectly identified Seagraves as an employee at NC State University Libraries. According to NC State University Libraries, Seagraves was an employee until 2015.
On Nov. 19, Seagraves was sued by Olivia Katbi Smith, co-chair of the Portland Democratic Socialists of America, for invasion of privacy and intentional infliction of emotional distress, seeking damages of $45,000.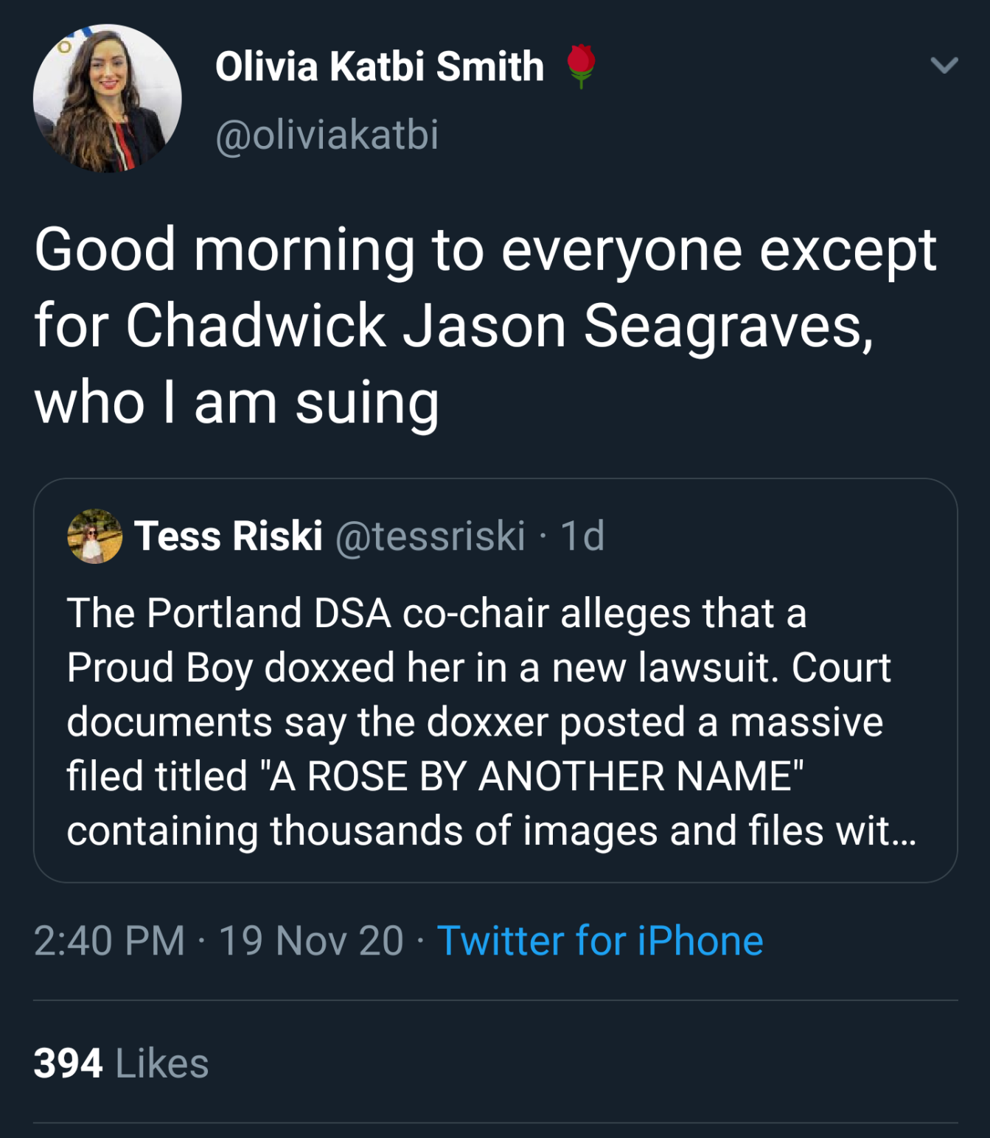 According to the Willamette Week, a Portland news publication, Smith alleges Seagraves posted the address of her and her family as part of a leak of the private information of Black Lives Matter protesters in Portland and Asheville. Her attorneys said the metadata of a large portion of those leaked files, which numbers in the thousands, has Chadwick Jason Seagraves' name attached.
As of 4 p.m. on Nov. 20, NC State is still investigating Seagraves and has not commented further on Seagrave's position at the University.
Technician reached out to Seagraves for comment and received no response.
This is a developing story. Check back for more updates.