During the first week of June, social media users posted and shared three separate instances of white NC State students using racial slurs. Two separate videos showed the use of a racial slur, one involving an incoming NC State student and the other a current student, and a screenshot of a current white student using the slur in messages was also shared. 
NC State students, alumni and community members expressed outrage on social media, calling for the university to rescind the incoming student's acceptance and for the expulsion of the two current students at the university.
These leaked screenshots and videos all come on the heels of George Floyd's death. Floyd was an unarmed black man who was murdered by Minneapolis police on May 25. His death sparked protests against police brutality, violence and injustice toward black Americans in cities across all 50 states, including Raleigh.
June 1
A snapchat video of Andrew Bailey, an incoming first-year student at NC State, was leaked to social media on June 1. In the video, Bailey is seen in a car with others screaming a racial slur. 
Brad Bohlander, chief communications officer and associate vice chancellor of university communications, stated university upper administration is aware of the video and appalled at the use of offensive language.
"The language, statements and apparent intent of those posts stand in complete opposition to NC State's values and the university's strong commitment to cultivating a diverse and inclusive community that is respectful, understanding and civil," Bohlander stated in an email. "Racism and bigotry in any form have no acceptable place at NC State."
According to Bohlander, the Division of Academic and Student Affairs and the Office of Institutional Equity and Diversity, including the Bias Impact Response team, are reviewing this incident and will respond in accordance with university policy.
Bailey issued a statement to Technician.
"The video is an old snapchat video from almost two years ago," Bailey said. "Two of the four people in the video used a racial slur. I want to be clear that I did not say anything of the sort and do not use that kind of language. Still, it was wrong to have shared that video back then. I no longer associate with people that think it's ok to use those words and I don't use that kind of language myself. I have tried to spend my life helping others, but it has all been overshadowed by a video that's a couple of seconds long. The perception this video has created is not at all reflective of who I am or my opinions and attitudes. Even so, I am very sorry for my actions and how they have affected others. I attempted to communicate this through social media, but my comments were deleted by the people circulating the video."
June 2
Screenshots of Austin Ruark, a second-year studying accounting, using a racial slur in a group chat were leaked to Instagram on June 2. Ruark was an active member of Alpha Sigma Phi fraternity at NC State, but was immediately expelled from the chapter after the screenshots surfaced, according to an Instagram statement by Alpha Sigma Phi.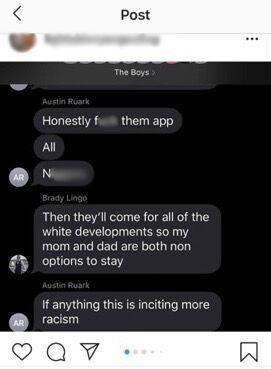 "We are appalled by what he had written in that group chat with his high school friends," the Alpha Sigma Phi statement said. "It's offensive, wrong and disregards everything we stand for as an organization. It's more important now than ever that we spread life and not hate, stand with our Black Brothers and actively participate in creating a Better World for everyone."
According to Lito Mantecon, Alpha Sigma Phi's chapter president at NC State, the fraternity has no tolerance for hate speech.
"Hate speech has no place and will not be tolerated in Alpha Sigma Phi, not only here at NC State, but on a national-organization level as well," Mantecon said in a written statement. "The other individuals in this group chat with his high school friends are not members of our Fraternity… we hope people understand these individual actions do not reflect how our organization on campus acts and operates on a day-to-day basis."
When reached for comment, Ruark stated "Brian Banks," and declined giving another statement. He did not expand on the meaning of his comment.
June 3
Ian Washer, a fourth-year studying business administration, used a racial slur in a video posted on Instagram on June 3.
Washer was an active member of Sigma Pi Rho fraternity at NC State, but was suspended immediately and cannot return to the chapter in the fall, according to Sigma Pi Rho President Dylan Brack.
"That kind of language has no place in our chapter or at North Carolina State University and is in direct conflict with our founding values," Brack said in a written statement. "In the creed of Sigma Pi, it states that a principle we hold true is 'to advance Truth and Justice.'"
According to Brack, the leaked video was taken before Washer joined Sigma Pi Rho, but the fraternity still found it serious enough to invoke a suspension.
"We, as a chapter, condemn any use of those words as seen in the video and its content is in no way a reflection of our brotherhood," Brack said. "Sigma Pi does not tolerate hate speech, and while we know this is a learning experience, there is still no excuse for such a slur to be made."
Rheece Hilliard, a fourth-year studying communication in public relations, published the June 3 video of Washer on his Instagram story. Hilliard said he was using his social media platform to spread information and awareness about the Black Lives Matter movement.
He said he also started posting videos and screenshots of racist interactions his followers had with a few members of his hometown. He said an individual reached out to him and shared the video that was taken in 2017 with him.
Hilliard, who is black, is a member of Sigma Phi Epsilon fraternity at NC State, another IFC organization on campus. IFC organizations attract predominantly white membership; however, not every chapter is the same. Hilliard said his chapter is more diverse, and while he knows the use of racial slurs and hate speech occur in other chapters, he tries to make sure they aren't present or tolerated in his own.
Hilliard wasn't surprised at the contents of the video, but he said he was let down.
"I knew it had to be put out there," Hilliard said. "That was my initial thought. Even though I don't want to put it out there, I need to. It had to be put out there because it was a very comfortable ignorance of knowing that it was not okay and just not caring because you are white." 
When reached for comment on the incident, Washer issued an apology.
"I sincerely apologize for my use of a term three years ago that I, as a white person, should never use for any reason," Washer said. "Of course, I was in no way intending to insult or demean anyone or any group but was instead trying to be cool in saying 'hello' to a white friend. But I now fully recognize and embrace that it is not a term for me to use in any way, at any time."
Washer said he stands with the Black Lives Matter movement.
"I believe that being an effective ally means not only protesting, donating and educating oneself, but means also recognizing my own faults, trying to learn from them, accepting criticism, having an open heart and mind and asking for forgiveness," Washer said. "In sum, I apologize and ask for forgiveness, and I will continue to work hard to self-reflect and be a better person, community member, ally and friend."
Hilliard said he hopes other non-black students can recognize their privilege and recognize that there are consequences and repercussions for using hate speech and racial slurs.
"It just goes to show that if you don't get with the motion of the movement, stop, actually learn to educate yourself and inform yourself, and get comfortable with people of color becoming predominant in white spaces … , then there will be consequences and … you will be left behind," Hilliard said.
For resources on anti-racism and the Black Lives Matter movement, click here. To report hate speech seen on campus or done by a member of the NC State community, submit a Bias Impact Report Form.