The North Carolina Museum of Art (NCMA) is currently displaying "Outlandish: Photographs by Ralph Burns from the Collection of Hedy Fischer and Randy Shull/Photographs from the Collection of Allen G. Thomas Jr." The collections both date from the 1970s to the early 2000s, encompassing a broad terrain of American land, people and relationships while examining the human experience and how we relate to religion, higher powers and the world surrounding us. 
On one side of the gallery, we see Thomas' collection of photos with various photographers' work contributed. According to the NCMA website, the images "explore the eccentricity and intrigue of contemporary photography." This side of the gallery encompasses human feelings towards religion, objects, love and politics with a mixed medium approach covering a variety of stylistic methods. From a highway "I DIED for Your Sins" billboard to an ethereal white-clothed Jodie Foster on film, religious values are up for interpretation in this collection.
The other side of the exhibit features Burns' collection of photographs from "How Great Thou Art," a photo collection following a group of devout Elvis fans after the musician's death in Graceland. Burns spoke on all things Elvis, human connection and his own trip to Graceland.
"You know, I heard of Elvis' death and that they would celebrate his life in Graceland, so I got up and drove to Memphis to capture the moment," Burns said. "I mean, you had to be there to see it. There was this solace, tenderness and deep appreciation for life and death amongst this group."
The "How Great Thou Art" collection may be widely misunderstood at first glance. The Graceland followers' devotion to Elvis was not something Burns intended to ridicule or deem inferior. 
"Misunderstanding could come from capabilities and sophistications interfering with the work … if you put it in a different setting, it's not that strange," Burns said. 
Burns said that we don't ridicule those worshiping a traditional religious figure with the same amount of passion in the way we would with those dedicated to Graceland. People are looking for ways to understand life, and religion plays a role in that. Whether you are devoted to a public figure or a respected religious figure, these are all ways to cope with our realities on Earth.
Burns ended up befriending many of the Graceland followers, which aided him in capturing this unfiltered real-time photography. Burns mentioned the story of one of his most memorable photographs; a woman smoking next to an Elvis doll resting gently on the bed beside her.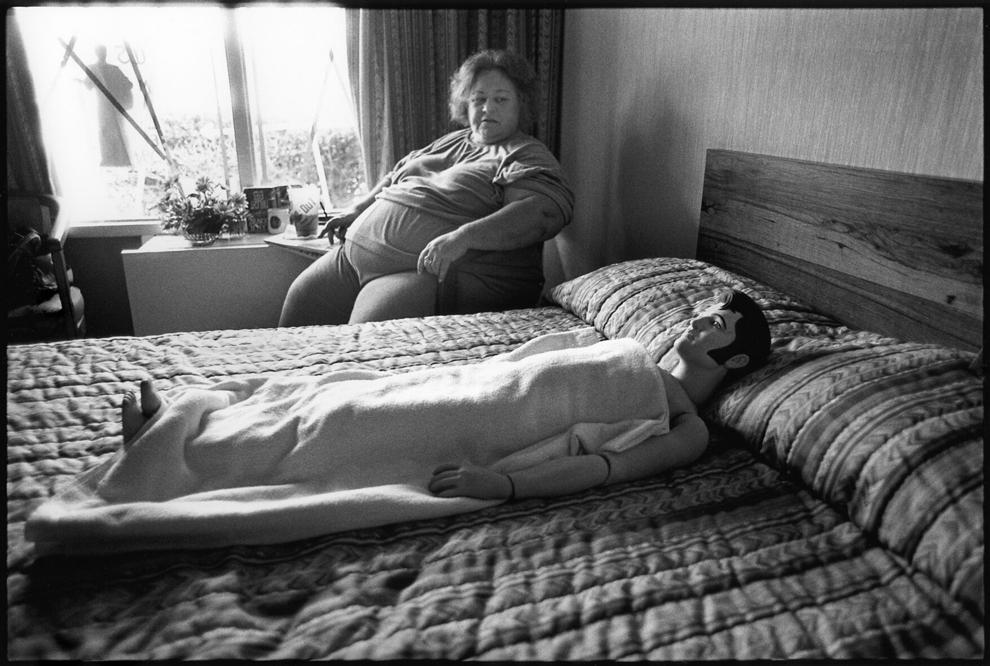 "That image was not posed," Burns said. "I was simply getting to know the woman and asked if she minded if I took one or two images on the other side of the bedroom, and there was the image." 
Burns' conversational moments in Memphis transfer seamlessly to the photos, making sense of Graceland's essence proceeding Elvis's death.
Jason Blyskal, a visitor experience manager at NCMA, thought the period captured by the images was an important aspect of Outlandish. 
"I mean, it captures a moment in America that may not have much camera coverage," Blyskal said. "It's interesting in that aspect. I think it's nice to have the pairing of on the one side you have Ralph Burns' photography, following the Graceland period and pilgrimages, and then to have on the other side another collection of contemporary photography. There's a good juxtaposition."
Blyskal also discussed how the exhibit is relevant to current events. 
"With Alan Thomas' collection, I think it casts a wider net of more contemporary issues from a general standpoint," Blyskal said. "With Ralph Burns' photography, maybe I wasn't as immediately considering the current elements. I'm not sure if it was the artist's intention, but it's certainly something one could ponder. Like, it's probably a very white-centric sort of movement. So there's some commentary to be drawn there."
Indeed, Burns noted the whiteness of the Elvis followers, but in a different light than one may have initially thought. 
"I mean, I'm no expert on Elvis in any way, but I did live while he was on Earth," Burns said. "Many speak on the potential appropriation of his music, but I think of him as a bridge being. His music helped move white people forward and introduced consciousness about race and the value of another human being. He allowed sexuality at a time when sexuality was repressed by society."
Burns' work may help one understand the idolization many held with Elvis in some capacity. Followers may have seen him as a figure for progressive, forward-thinking ideas and expression that were suffocating beneath the surface of themselves. This theme carries on with society today, as we generally idolize those proudly displaying a stifled part of our personality that we hope to embody one day.
As for other current displays at the NCMA, Burns has three photographs featured on billboards throughout the museum park.
"I think those three images, seen separately, but together, succinctly and silently convey one of the core animating motivations for me," Burns said. "For me doing my work, and, in all ways that matter, the 'How Great Thou Art' series is born of and is carried forward by those same motivations and appraisals."
Take a trip to NCMA to view these thought-provoking images to form opinions on the collection. The photos encompass a time one would otherwise rarely ponder, causing us to develop new, independent judgments on this period of American history.