Michael Walden is a William Neal Reynolds Distinguished Professor Emeritus who retired at the end of March 2021, and he currently works as an extension economist at NC State. Walden has written 14 books, his most recent being "Real Solutions: Common Sense Ideas for Solving our Most Pressing Problems," where he discusses some of the biggest issues the United States faces today, such as immigration, global warming, rising college costs and more. 
"Part of my job is working with outreach extensions, so I've had thousands of talks across the state on a variety of subjects, and oftentimes, I get asked many questions on them," Walden said. "I got to the point where I decided I should write it down before I get too old and I forget." 
Walden's book is broken up into three parts. The first part consists of an overview of the problem or issue, the second part is a review of the proposals that currently exist addressing the issue in part one and the third part is Walden's solution to the issue. He does not try to frame his solutions into a specific paradigm. 
Walden said people have approached him saying, "I can't figure out what you are [politically]," which he enjoys. 
According to Walden, his motivation was primarily getting his views on paper and sharing them with others who find them interesting. His passion lies in trying to understand human interactions and his core motivation was always trying to figure out why people behave the way they do in the economic realm.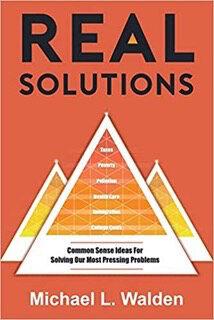 Walden is very busy and has multiple time commitments; however, he has found time to write by streamlining his research and writing process. He works in one area and uses that information in another area.
Of all the issues in his book, Walden said he believes his biggest focus would be a "massive [economic] infusion on K-12" as well as "outreach programs for pre-K." He said there would be a great pay off when placing more money into the K-12 system. 
"It would cost a lot of money up front, but you will get a pay off for it down the road," Walden said. "K-12 is the core of everything. K-12 helps students learn and acquire success, however they decide success." 
He recommends for the reduction of tuition and costs of higher education and moving those savings for K-12, so we will come out ahead. 
Mary-Margret Brooks, a high school math teacher in Baltimore, said she agrees these structures create inequities in the K-12 system.
According to Brooks, these inequities in education present as opportunity, quality of education and access to technology, with all of it depending on a student's zipcode.
"[Schools] can be so different even within the same district, how there can be such a wide variety of opportunities for students based on something they can't control," Brooks said.
The use of technology can have a big impact and help issues in the K-12 education system, according to Brooks. 
"Now, with Zoom and online learning, there are opportunities for children in rural areas or schools that do not offer AP classes," Brooks said. "Now, hopefully, those students have the opportunity to access some of those courses that maybe aren't taught by teachers in their school, just a way to access more global education using technology, as we're learning about the technology." 
Walden said he believes now more than ever that these ideas and topics are critical to address.
"We are going through a period now in our political climate where we are looking at major changes and initiatives at the federal level," Walden said. "My book can be helpful in informing people on those issues."