What's in a name? The 1911 Building, 111 Lampe Drive, Talley Student Union, Wilson College of Textiles — each of these names tells a different story that, together, tells some of the story of our school and our campus. That history is incomplete without the recognition of Cox Hall and its namesake, Gertrude Mary Cox.
Cox Hall is one of two educational buildings on campus to be named after a woman, the other being Marye Anne Fox Science Teaching Laboratory, and Miss Cox, as she was affectionately referred to by her students, colleagues and friends, deserved the recognition.
According to Alison McCoy, receptionist and unofficial historian for the Department of Statistics, Cox began her academic career by receiving a bachelor's degree and a master's degree from Iowa State University (ISU) in 1929 and 1931, respectively. Cox was the first person to receive a master's degree in statistics from ISU. By 1940, Cox was teaching a class on experimental design at ISU and was the head of ISU's computing laboratory.
At the same time in 1940, NC State College President Frank Porter Graham met W. F. Callander, a statistician for the U.S. Department of Agriculture, on a train where they discussed a need for a place to educate future statisticians in the South, according to a paper on the history of the department co-authored by Cox. Graham decided NC State College should be the home of that institution.
Graham began searching for professors for the department and reached out to Professor George Snedecor at ISU for some names he would suggest. Snedecor compiled a list of five men and circulated it around the department. Cox then asked why her name wasn't included on the list, and Snedecor replied it was an "oversight."
On Sept. 7, 1940, Snedecor sent the list to Graham with the five men and a note saying, "If you would consider a woman, I know of no one better qualified than Gertrude M. Cox."
By Sept. 24, Cox had received an offer that she would accept.
Cox started on Nov. 1, 1940 and became the first woman professor on NC State's campus. By January of 1941, the Board of Trustees for the Consolidated University of North Carolina approved the establishment of the Department of Experimental Statistics and appointed Cox as department head, making her the first woman department head on NC State's campus.
In 1944, Cox helped found and was made the director of the Institute of Statistics at NC State College. 
Cox's success in her field made her colleagues respect her, but her actions made them love her. During World War II, several faculty members were called to enlist in the war, and the department's newsletter, with the help of Cox, would keep track of their service and celebrate their return, according to McCoy.
"Miss Cox traveled the world as few women of her day could," McCoy said. "She must have been fearless, and she was an amazing planner. I was told that she kept notes on each child of her faculty members and brought each one a little gift from her travels. She had Christmas parties for the adults and for the children. She made the department her family and never married."
According to NC State University Libraries, thanks to Cox's contributions, NC State's Department of Statistics is one of the oldest and most respected in the country. However, Cox is known for her contributions to statistics worldwide, not just on our campus.
In 1945, Cox became the founding editor of "Biometrics," the journal of the International Biometric Society. She became a fellow of the American Statistical Association and the Institute of Mathematical Statistics in 1944 and the Royal Statistical Society in 1957. She also served as president of the American Statistical Association in 1956. In 1958, ISU honored Cox with an honorary Ph.D.
In 1959, Cox established the Statistics Research Division of the Research Triangle Institute, which still continues to conduct research on public health, environmental concerns and technology across the state. Also in this year, the UNC System gave Cox the O. Max Gardner award for her contributions to "the welfare of the human race."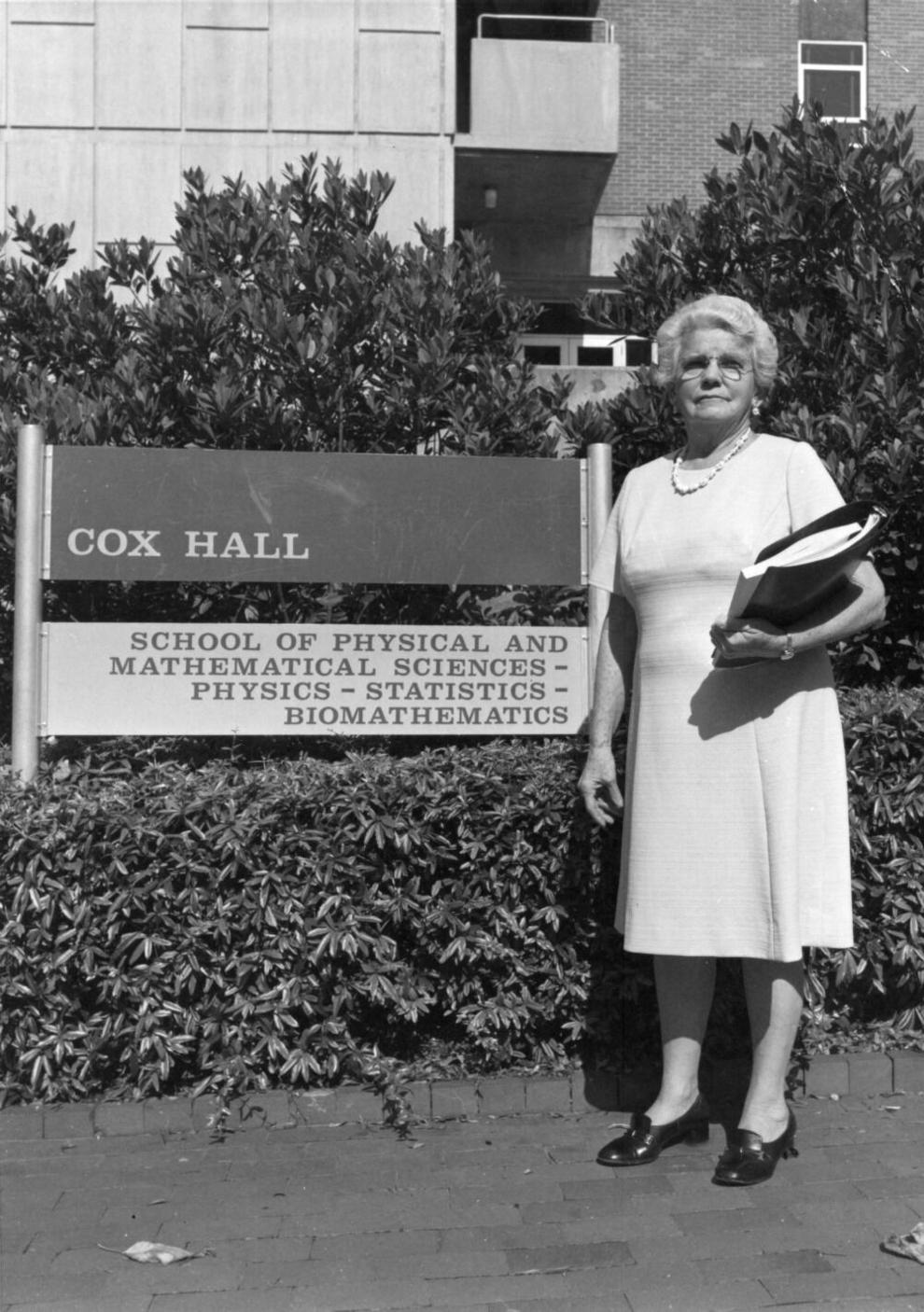 Cox was president of the International Biometric Society from 1968 to 1969, and in 1970, NC State chose to honor Cox by naming the building that housed the Institute of Statistics in her honor. This building, Cox Hall, is now a testament to the hard work of Miss Cox and a legacy that will continue to live on. 
"She was a marvel at fundraising for support of the department and the work done there," McCoy said. "Originally, it was the Department of Agriculture that supported the formation of the center to help them with analysis of crop productivity. Cox was able to get more funding from places like the Ford Foundation and the Rockefellers. One colleague told me she could get money out of a rock."
In 1975, Cox was inducted into the National Academy of Sciences, and in 1977, she was honored with NC State's Watauga Medal for her contributions to the advancement of the University.
Throughout her career, Cox advocated for young women to join science fields, especially math and statistics. She didn't believe that women had to choose between a profession or marriage; she believed women should prepare for a profession regardless of if they chose to be married or not.
Cox's legacy is one that can be hidden behind some of the big names that have come out of our University. However, her impact on the campus, the field of statistics and the future women on NC State's campus cannot be ignored, and while we remember the legacies of other women like Katharine Stinson of Stinson Drive, Susan Colwell Carroll of Carroll Residence Hall, Jane McKimmon of the McKimmon Center and Mary Elizabeth Yarbrough of the Yarbrough Steam Plant, we must also remember the legacies of all of the other women, especially women of color, who were overlooked in their contributions to our university.