On July 13, NC State Dining invited select faculty, staff and students to a rehearsal run at Fountain Dining Hall to test their COVID-19 safety plans for the fall semester. NC State Dining worked to emphasize social distancing measures, as well as cleanliness during this run through. Dining has also made changes to campus retail restaurants, so students can place orders on the Grubhub app to limit interactions. 
A more in-depth plan for all three dining halls can be found here. 
Entering Fountain Dining Hall
To ensure social distancing outside of the dining hall, there is signage on the pavement, indicating where each individual student may stand and wait to enter. Additionally, there are automatic hand sanitizer dispensers near the entrance of Fountain.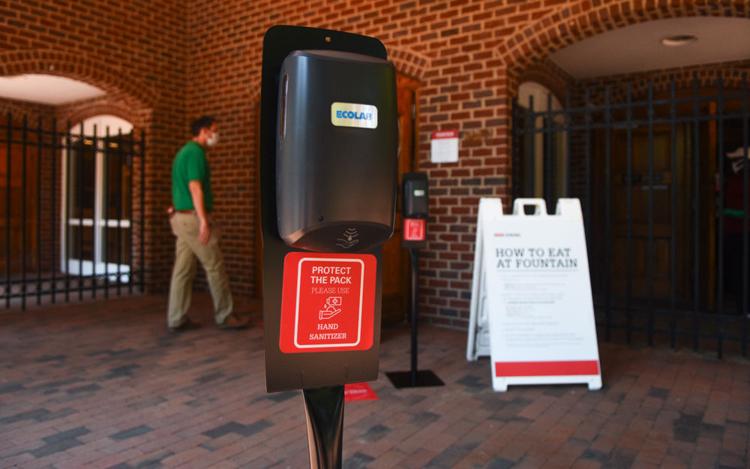 Students must also wear masks to enter. There will be signage on each doorway, notifying students where to enter and exit. 
According to Jennifer Gilmore, director of marketing and communication at Campus Enterprises, all of the menus for the dining halls will be on the On Campus app. Gilmore said that NC State Dining encourages all students to look at the menu before they come and eat, so students know exactly what they want and where to go. 
There are different colored lines on the floor of the dining hall that students must follow for a specific food option. Below are the options:
Red Line: Home + Grill

Orange Line: Home + Stir Fry (Asian)

Blue Line: Home + Sandwich

Green Line: Home + Pasta

Yellow Line: Express Pasta + Homestyle + Sub
Once a student enters the dining hall, they must tell the cashier if they are dining in or taking food to go. If eating in, a student must present their Wolfpack One Card and tap the register to pay. If taking food to go, a student must also take a reusable green container to put their food in. 
Reusable Containers 
According to Gilmore, every core meal plan includes a free, reusable container. In order to obtain their container, a student must present their ID card at the dining hall register. 
Once a student is done using their reusable container, they must keep it until their next visit to the dining hall and exchange it for a clean one. Or, a student may get a special carabiner, which indicates that a student can get another reusable container on their next visit, according to Gilmore. 
If a student loses their reusable container, they will be charged $2.50 for a new one, according to the NC State Dining website. 
Getting and Eating Food
On the floor of the dining hall, there is signage that indicates and leads students to the specific type of food option they want. Additionally, the floor signage is set 6 feet apart, reminding students to social distance. 
According to Keith Smith, director of board operations and sustainability, students who eat in the dining halls will be served on the same washable plates as in years past. Like before, the dining hall staff will take the plate from the student and put their food on the plate for them. However, according to the website, they have installed Plexiglas to provide additional barriers between the student and staff at each food serving station. 
All dining hall staff will be wearing masks and gloves. Additionally, they will hand out a single-use cup to all students. These cups are prefilled with ice and a student can fill it with a drink of their choice at the drink machines. 
Additionally, a student will get single-use, prepackaged silverware with salt and pepper packets. All condiments will be available in single-use packs. 
Desserts, such as cookies, are all prepackaged. However, students are still able to use the Howling Cow self-serve ice cream machines.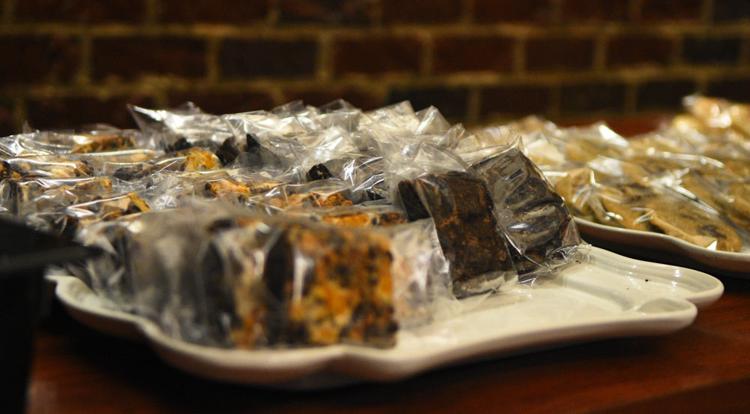 In the seating area, some tables are blocked off and cannot be used to ensure social distancing between students. Students may also sit outside on a picnic table underneath the new tent that dining has set up near the Bragaw and Lee parking lot. 
If a student planned to dine in, but there is no available seating inside or outside, a student must come back inside the dining hall for a reusable container and take out the food. 
According to Smith, if a student wants seconds, they must go back to the entrance  of the dining hall and get back in line with a new plate. Students can no longer enter the food service area from the seating area.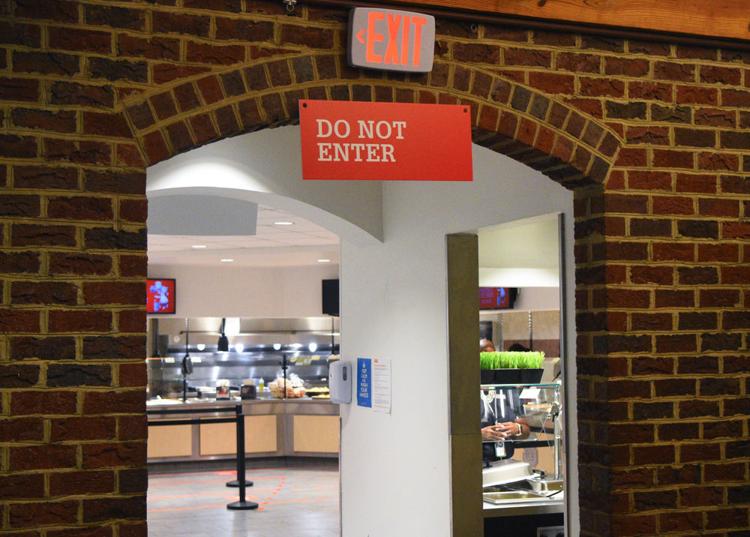 Cleaning
According to Smith, once a student who has eaten at the dining hall is done with their food, they must return the plates to the dish accumulator as they exit the building. For a student with a reusable container, they must wash and empty it at home or in their dorm before returning and exchanging it for another. 
Smith said all high touch areas in the dining hall, like the ice cream dispenser handle, door knobs and more will be sanitized every 15 minutes by dining hall staff. Additionally, staff will clean the entire facility between meal times. 
The dining halls will also be cleaned by an outside company every night, Smith said. 
Eating at Retail Restaurants
According to Gilmore, students may only order food from select campus restaurants through Grubhub and touchless payment only. Students may go to the locations to pick up their food. Menu options will be available on the app, in order to make the ordering process easier.
Grubhub only:
Port City Java (all locations)

Starbucks (Talley)

Tuffy's Dinner (Talley)

Jason's Deli (Talley)

Los Lobos (Talley)

One Earth (Talley)

1887 Bistro (Talley)

Chick-fil-A (Atrium)

Smoothie U (Atrium)
Grubhub and touchless payment only:
On the Oval Food Hall (Wolf Village)

Red Sky (Talley)

Common Grounds (Hunt Library)

Hill of Beans (Hill Library)

Terrace Dining Room (Lonnie Poole Golf Course)
Touchless payment only:
Zen Blossom (Atrium)

Brickyard (Atrium)

Sushi with Gusto (Atrium)

Wolfpack to Go (Atrium) 
Closed Locations:
State Club Restaurant (Park Alumni Center)

McKimmon Corner Cafe (will be replaced with vending machines)

Wolves Den Cafe (College of Vet Med)