In remembrance of those who were killed in the recent shooting at two mosques in Christchurch, New Zealand, several students gathered at the Community Interfaith Vigil on Tuesday, March 19, hosted by the Muslim Student Association to honor the victims of the shooting and support the Muslim community.
The event was a time of solidarity for NC State's community and featured several speakers of varying backgrounds that came together to share messages of resilience and hope.
Fri Momin, a fourth-year studying cognitive neuroscience and psychology and former president of the Muslim Student Association at NC State, said MSA organized the vigil by themselves.
"At other schools, everyone is like, 'Muslims are in a time of need, we should support them,'" Momin said. "Here, it's like 'Muslims are in a time of need; let's let Muslims support themselves,' and that's how it constantly is, whether it's prayer spaces [or] food."
Other religious groups attended the vigil included Hillel at NC State, Presbyterian Campus Ministry and a plethora of other Christian groups from campus.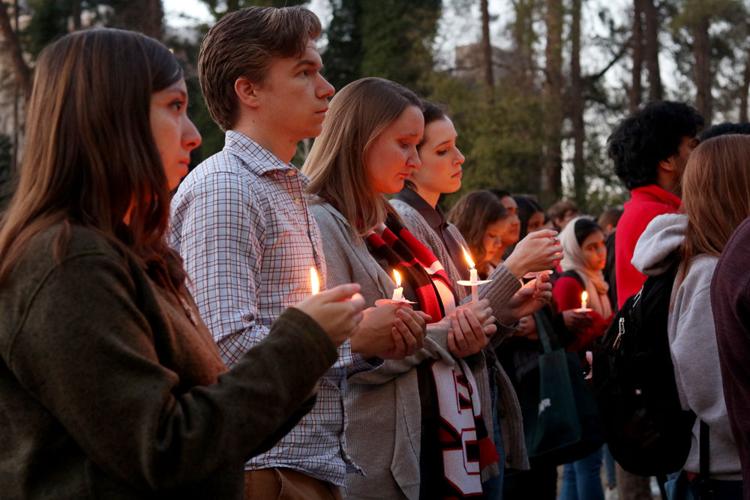 The event also featured speakers such as Kevin Singer, a Ph.D. student in higher education and co-founder of Neighborly Faith, an organization that encourages evangelical Christians to be good neighbors to those of other faiths. Singer spoke about the nature of Christianity and how people of that faith can help in the midst of these tragedies.
"Evangelical churches cannot be safe havens for white supremacists," Singer said. "We were called to be the light of the world, to be good news, to mourn with those who mourn. We cannot in the same breath worship Jesus and bear false witness about our neighbors."
Farris Barakat, executive director of the Lighthouse Project, spoke about his experiences with the shooting of his brother, Deah Barakat, along with his wife and her sister, Yusor Mohammad Abu-Salha and Razan Mohammad Abu-Salha, in Chapel Hill four years ago. He talked about what he had learned in the time since this tragedy.
"The one lesson through all the prayers and sermons that I've been able to take is that the good and the bad are not equal," Barakat said. "To do something good and to do something bad — as much as we want to look at the bad, we look at the good that we've done and we can celebrate."
Coming together as a community was another central idea echoed by speakers, including Justine Hollingshead, assistant vice chancellor and chief of staff of the Division of Academic and Student Affairs.
"It seems like every day we have to continue to grieve and move on, but we do that as a community," Hollingshead said. "NC State is that community. I hope that for those of you that are grieving, and all of us, that we stand together as one community."
Still, Momin said that she believes that the university, in comparison to other universities such as UNC-Chapel Hill, did a poor job of communicating with Muslim students on campus directly following Christchurch shooting.
"After the attacks in New Zealand, the chancellor of UNC-Chapel Hill emailed their president and vice president and the students and said, 'we're here for you if you need support,'" Momin said. "We haven't heard anything from NC State. I've had professors reach out to me and other students, but there was no formal statement from the administration."
In her March 19  HOWL email, Student Body President Jess Errico, a fifth-year studying mechanical and aerospace engineering, asked that students be aware of the effects an event of this caliber has on members of the community.
"As we return from Spring Break it is impossible to ignore the recent act of terror and hate in New Zealand that has affected the global community," Errico wrote in the email. "Please be mindful of the impact this has on members of our Wolfpack and know there are a multitude of resources (counseling center, OIED, the community centers, and more) available to help support us."
Mujtaba Mohammed, state senator from North Carolina's 38th district and the only Muslim member of the NC General Assembly, discussed the need for Muslim allies throughout the community to truly act against Islamophobia.
"As we continue to remember the victims of Christchurch and the Muslim community there in our prayers, to our allies here today, instead of simply praying for your Muslim friends, we need you to do more,"  Mohammed said. "We need you to report Islamophobic actions when you see them on social media. We need you to call out your friends and coworkers and your family members when they're making Islamophobic jokes. And we need you, most importantly, to hold people all the way from the White House to state houses across this country accountable for spewing hate."
More information about the Muslim Student Association can be found on their Facebook page.