Update 10:00 a.m.: Lisa Zapata, senior associate vice chancellor in the Division of Academic and Student Affairs (DASA), has been named the interim vice chancellor for DASA. Bret Smith, the senior associate dean for University College, was named the dean by Provost Warwick Arden.
Original Story: On Thursday, College Republicans at NC State released a statement calling for the immediate resignation of Mike Mullen, vice chancellor and dean for the Division of Academic and Student Affairs (DASA). Three hours later, Mullen announced his official resignation from his role in an email to DASA staff. 
"Today I write to let you know that I have decided to step down from my role as Vice Chancellor and Dean for DASA immediately," his email said. "This was a difficult decision and I am stepping down for personal reasons." 
It has not been confirmed by Mullen nor the university that his resignation is connected to the statement from the College Republicans.
In the statement, College Republicans condemned Mullen's "hurtful rhetoric" on social media,  saying his comments "widened the gap of political divisiveness" and created an unsafe political environment for students.
Through his personal Twitter account, @NCSU_MikeMullen, Mullen has tweeted several statements the College Republicans found offensive, including one reply to conservative pundit Charlie Kirk in May 2018 in which Mullen associated the GOP with hate groups such as the Ku Klux Klan.
"But, now the GOP is the party of the NRA, neo-Nazis, the KKK, and all manner of Alt-right crazies. You have betrayed your history," Mullen tweeted.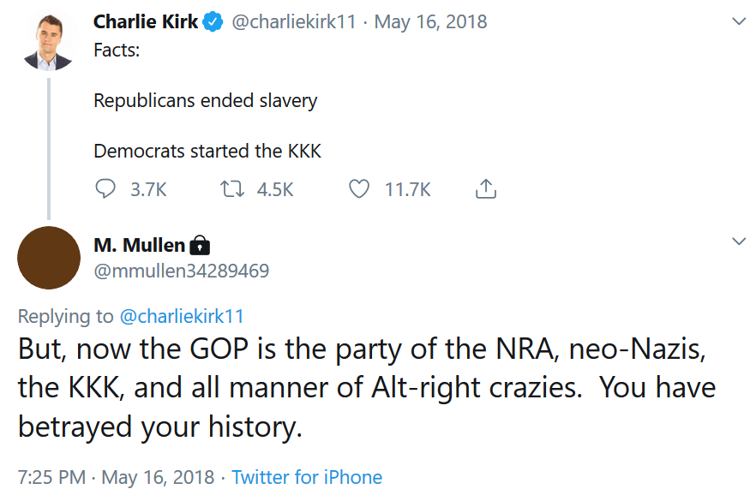 Mullen's Twitter account has since had its handle changed from @NCSU_MikeMullen to @mmullen34289469. The account has also been changed from public to protected, allowing Mullen to control who has access to his account. 
Mullen's social media activity has garnered negative feedback before. In November of 2018, a tweet that called three individuals "rednecks" received heavy backlash and was deleted. Mullen later apologized and vowed to do better.
"Sitting in the Renaissance lounge, working, listening to three redneck businessmen discussing democratic mobs and violence.  Lots of coded language. #bloodboiling". He has since deleted the tweet.
College Republicans at NC State released the tweet on their social media accounts close to 11:30 a.m., and within an hour garnered support from organizations such as Students for Trump and the Republican Party of North Carolina.
Conner Paszko, chairman of College Republicans at NC State, said the organization was made aware of Mullen's tweets through an article published by First in Freedom Daily, a North Carolina-based conservative news source. 
"We were sent the article, we talked about it in our group chat and someone posed the idea of drafting a statement on it, and we just went forward with that almost within a couple of hours," Paszko said.
Paszko said that while he does believe people should be free to express their political opinions, he saw Mullen's comments as going too far, especially because of his position of power at the university.
"Mike Mullen's account was tied to NC State," Paszko said. "His handle is @NCSU_MikeMullen. The comments crossed a line for us. Like I said, he directly called out Republicans, supporters of the President. That's where we got uncomfortable with it; I don't have a problem with NCSU officials having their opinions and being vocal about it. It's just that it was demonizing to students on NC State's campus."
According to a statement released via email to DASA staff by Warwick Arden, executive vice chancellor and provost, Mullen's last day will be Friday, Aug. 16. Mullen will return to the faculty in the College of Agriculture and Life Sciences after Friday.
As of publishing, Technician was unable to reach Mullen for comment.
A replacement for Mullen has yet to be announced. 
Abbie Davies-Cutting and Dan Gilliam contributed to the reporting of this article.