Adventurist Backpack Company is selling backpacks at Wolfpack Outfitters to fight food insecurity by donating some of their proceeds to foodbanks. However, they are not selling enough backpacks at NC State to make a difference locally.
Adventurist Backpack is a small company located in Colorado started by married couple Kelly Belknap and Matilda Sandstrom. Belknap said he and Sandstrom initially designed the backpack for a trip they took after graduating from Colorado State University. However, after seeing people impoverished on their trip, they would buy food at the local supermarket and donate it to those in need. As a result, they were inspired to use their company to help fight food insecurity.
Belknap said Adventurist Backpack donates some of its proceeds to Feeding America, a nonprofit organization that donates to over 200 food banks and 60,000 pantries across the United States. Adventurist Backpack donates 25 meals for each bookbag sold, and over 100,000 meals have been donated to food banks and shelters, according to the Adventurist Backpack website.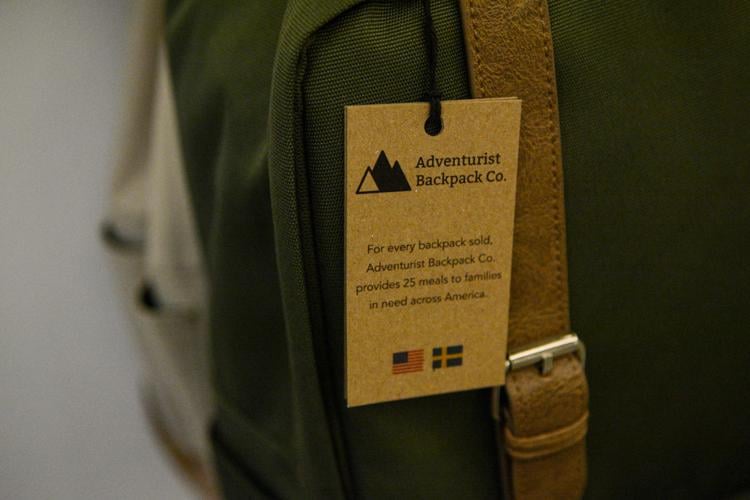 Adventurist Backpack first partnered with Colorado State University. Their backpacks sold very well there and were able to team up with Rams Against Hunger, a program that fights food insecurity at Colorado State University. Belknap and Sandstrom hope to find success in other colleges across the United States. However, they fell short of their goals at NC State.
Bill Blades, assistant director of the Merchandise Division at Wolfpack Outfitters, and Debra Goode, school supplies buyer at Wolfpack Outfitters, provided information on how the partnership with Adventurist Backpack and NC State began, as well as how the backpacks aren't selling well at Wolfpack Outfitters.
Blades said the partnership began after a recommendation from the Independent College Bookstore Association (ICBA).
"Adventurist reached out to ICBA [to] seek a partnership, and ICBA fed information about them to the membership," Blades said. "[Colorado State University has] been very successful with Adventurist, and the Adventurist folks shared that information and asked us if we are willing to give it a try."
Blades said if the backpacks sold well at NC State, they would continue to collaborate with them even further. However, sales are not as successful compared to Colorado State University.
Despite advertising Adventurist Backpacks on their website and through social media, Blades and Goode said the product has not sold well.
As of Nov. 22, 2019, Goode said Wolfpack Outfitters had only sold three Adventurist Backpacks out of 24. Although Adventurist Backpack has donated 75 meals, it is not enough to continue the partnership.
Blades and Goode believe the backpack hasn't sold well because there is so much competition between recognizable brands at Wolfpack Outfitters, so students ignore the ones made by Adventurist Backpacks.
Further information about the company and its products can be found online.