In order to keep up with the increasing student population at NC State, Fountain Dining Hall has undergone a number of changes in preparation for the upcoming fall semester, including an expanded menu and interior renovations.
Student feedback has played an important role in deciding what changes were made to the dining hall, according to Fountain Manager Crayton Garrell.
"We have comment cards in the lobby that people filled out, and we tried to answer them," Garrell said. "We take a lot of feedback from students, and we actually act upon it, versus letting it fall on deaf ears."
Returning students will immediately notice that the office spaces that previously separated the two service stations of the building have been removed, along with the islands that were in the middle of each room. There is now one large service area that can accommodate more students and allow a greater variety of food options.
"People can actually go to any section they want and actually get a meal, versus running over here to get a protein and then over here to get a starch," Garrell said. "People will have more variety."
Further changes include the additional self-assembly stations and an extended salad bar that acts as the centerpiece of the new self-service area.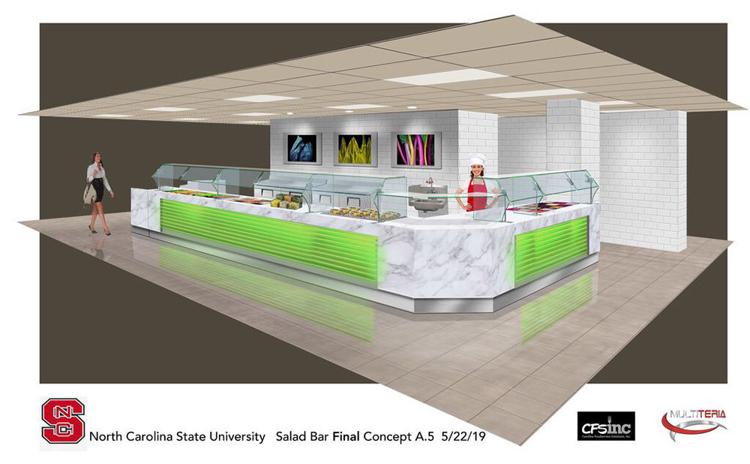 The addition of the new salad bar promotes the importance of health and fitness at NC State, according to Keith Smith, associate director of board operations for NC State Dining. The salad bar will include some food from local sources, Smith said, and Fountain as a whole is aiming to serve more fresh versus frozen products.
According to Smith, these changes are part of an ongoing process to foster a sense of community and welcome students.
"[The dining hall] becomes part of their extended living space," Smith said. "It makes them feel more at home. Our goal is just to make it feel more homey and give students more options."
Garrell said one of the reasons for removing the offices and opening the service area was to make the building more inviting and make it easier to eat with friends.
"If you want pizza and everybody else wants a hamburger or something like that, you guys can still split up and still get seating on one side or the other," Garrell said. "You won't get lost by the hindrance of what's in that office space there that's blocking the view."
Construction began on May 11 to refurbish the interior. The offices have been removed, floor tiles and lighting have been replaced, and final additions are expected to be completed by the beginning of August.
"Dining continues to elevate our plates and hire great talent," Smith said. "We are going to continue to do that, because we want to be the best we can be for the students and for NC State as well."