To some students, Talley Student Union has become a second home since the new and improved hub of student life reopened nearly six years ago. Those students may have admired the artwork that hangs on nearly every wall, but few know that the entirety of Talley's art collection is completely student-made.
Arts NC State has been acquiring student art since 2001 in private sales, but in 2015, the switch was made to selling student art to the community at large. Amy Sawyers-Williams, the manager of arts outreach and engagement at NC State, said that taking the sale from a private purchase to the public affair that it is today was a decision made, in part, by the campus community at the time.
"So many student art pieces that were submitted for sale wouldn't be purchased, and then they would just go back to the student," Sawyers-Williams said. "People really liked those pieces, so we saw this as an opportunity to put money back in the pockets of students and also offer students an opportunity to professionally sell their work, which is a big deal."
Last year, the sale was switched to a virtual format at the last minute due to COVID-19, and this year will be no different. However, students will still have the opportunity to make a chunk of change from their hard work and potentially earn top prize for their composition, thanks to an award made possible by the Roxanne Hicklin Visual Artist Award Endowment that was introduced in 2017.
"A few pieces are selected by a judge — one in 2D art, 3D art and digital art," Sawyers-Williams said. "Those pieces win the award; they win $500 each and their work is on permanent display in Talley in a case by Stewart Theatre for the following year."
Tim Hogan, the operations director for NC State Student Centers, stressed the importance of having student-made art in an environment where students gather often to eat, study or relax with friends.
"I think it's critical, especially in a facility that's a student fees-supported facility, [that] the only art in the building we have is student-created artworks, and that's by design," Hogan said. "It's critical for us to show that this is a building that's supported by student fees, and that we operate the building with the students. For it to be filled with art from students, that just rounds out the picture for us."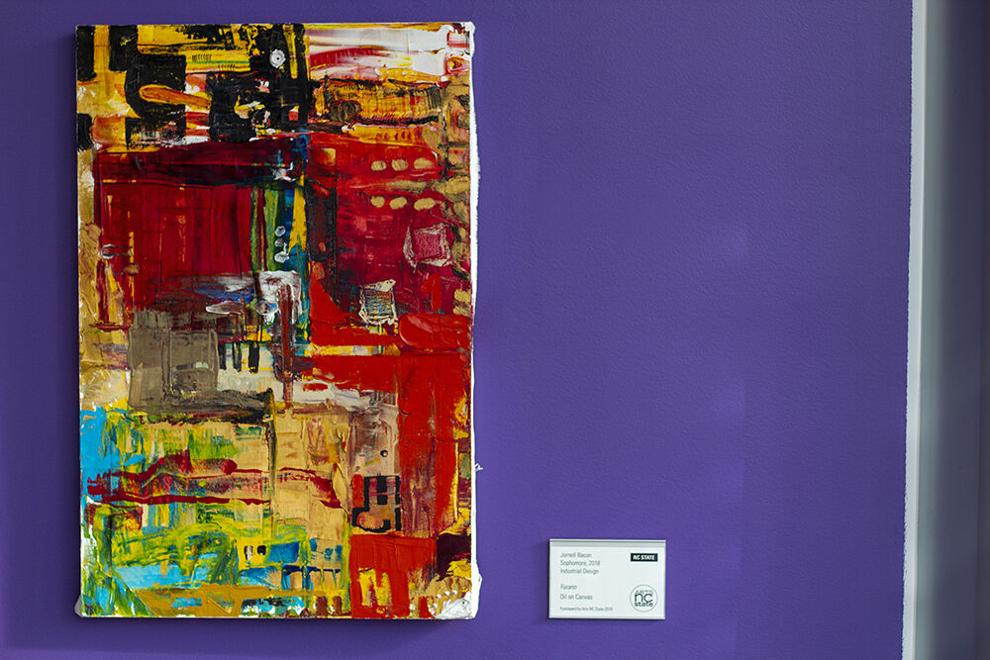 Thanks to the expansive wall space at Talley, the artwork that Arts NC State possesses does not need to be rotated out — more art is simply added to the collection as years pass and more pieces are sold.
"Over the past number of years, the student centers have purchased two, three or four pieces of art from the student art purchase program," Hogan said. "At the same time, Arts NC State will purchase pieces of art and they'll add those to the same collection and they'll get hung in Talley. Generally speaking, we just keep adding to the collection."
For students interested in participating in the virtual sale this spring, submissions are due on April 2. Sawyers-Williams strongly encouraged artists to submit their work, citing the potential for big payout and the chance to be featured in Talley.
"This coming year, April 16 will be our next student art sale, and that sale will be virtual," Sawyers-Williams said. "Last year, students made $10,000 in sales. This year, it's going to be a virtual sale again, and we're going to purchase pieces for the collection to keep putting up in Talley."